Rocoja
has had the pleasure of working with some lovely new businesses over the last 3 years – From cake makers who work from home & celebrities starting out in the music industry to construction & building companies; all of whom needed some direction & assistance with their marketing.
From full marketing support with Flyers & e-shots to just handling Twitter; Rocoja has helped, advised & created business plans that has afforded them a stream of marketing opportunities they didn't know existed.
However there are still those which take the business plan we prepare (For free) after spending time with them & learning about their passions & goals; researching their products & services, learning about their history & ethics; then go with a "larger company".
Why – Because many businesses & individuals are still caught up with the "bigger must be better" falsehood..
One of the latest companies we have helped was paying just under £1000 per calendar month for a "Full Social Media presence" to be built. However this wasn't translating into visitors to the website (an e-commerce venture) & the reports at the end of the month from the "Agency" was showing lots of work happening so it just wasn't making sense.
Through a referral, we carried out a full investigation & prepared a detailed report, showing that lots of tweets were indeed happening BUT with no interaction. The same was apparent on the Facebook page – lots of posts, but only 7-10 people seeing each one & then no interaction.
Worst of all The Social media platforms were not even branded & looked completely separate from each other.
There was a conveyor belt of "blogs", "posts" & "tweets" on behalf of the business with links to websites & news stories BUT not relevant or researched & not linked back to the company.
We know that at the start of the Twitter revolution it was seen as a FACT that you had to have as many followers as possible to be even considered successful but now we all are painfully aware that just isn't true. A business / individual trying to build a quality profile will need concise, targeted followers who will help grow a loyal customer/fan base, engaging & sharing information..
My point is, did the large agency spend the time to know the small business; its owners, its history? Did it post articles that the companys' potential customers would like to read about? Do you think it wanted to spend that time, getting to know its client?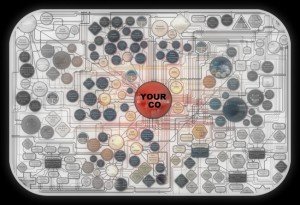 Or did it hope they were stuck in the Bigger is Better frame of mind & churn out analytics & charts which look good?
Yes a larger agency may have expertise & more manpower but a smaller consultancy has the expertise & flexibility they may not have (despite promising such). The smaller consultancy will also (usually) be much more accommodating with things you need actioned quickly, or invoices etc you need to defer a few days; as we understand time pressures & financial constraints of a small business much better than an "expert" in a team of people in a large business where they do not have to deal with such things.
We also feel a smaller consultancy is the best choice if you are looking for individual guidance, as well as marketing; as we are more likely to involve you if you wish & that can only be a good thing for your business.
After all hiring a consultancy gives you other bespoke options, such as having someone come in & help you on-site if you wish, to learn how to eventually take over the marketing yourself. Its also a great way to have the marketing completed, while you run your business but with the option to move to a larger machine if (we hope – when) your business is big enough to warrant a bigger more impactful agency led campaign.
Unfortunately from experience of many of the small businesses we have assisted, the thing at the forefront of what the companies find when hiring a bigger agency is Bigger usually extends to the Bill at the end of the month!
Contact Rocoja Limited for help and advice.
We are here specifically for small businesses, events, charities and individuals.
Contact us for some advice info@Rocoja.co.uk
We are to help.